The Contemporary Room tells the story of proto-industrial production, in both the brick sector, with introduction of the Hoffman type continuous cycle kilns (Fornace Carani and Fornace Cuoghi in Fiorano), and in the ceramic production of Sassuolo which, together with earthenware, coated, glazed and enamelled ceramics, began producing the first ceramic-coated and floor tiles (Fabbrica Carlo Rubbiani).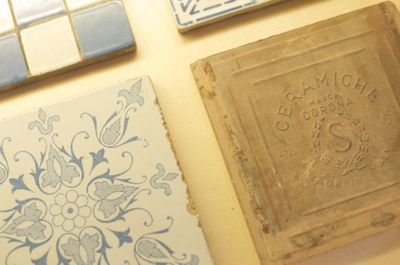 The hand-moulded Majolica bricks of the second half of the nineteenth century were replaced with machine-pressed tiles; models for mechanical parts of a historical Ceppelli ceramic press are on display in the room and a multimedia installation tells the story of the work through the voices of the workers.
The "Ceppelli" press, produced from the 1940s, marked the start of what would become a mechanical sub-sector for ceramics in the postwar period. "Mechano– ceramics" started in the maintenance departments of the individual firms, but would lead to the opening of specialist forms "dedicated" to the production of technologies for the Ceramics District.
Acknowledgements
Curators: Donato Labate, Tullio Sorrentino