Labour is the innovative multimedia section of the Museum of Ceramics: an installation allowing visitors to experience history by listening to the voices of the people of the ceramics industry, a journey back through time, from the end of the nineteenth century to the present day, with a look at the machinery and its operators. Discover all about their lives, their work, their labours and their triumphs.
Housed in the 300 m2 of the restored basement of Spezzano Castle, the Labour exhibition tells the story, in four rooms, of the "men and who have made the history of the ceramics industry" in the Modena-Reggio district.
Labour shows the evolution of the technologies and the products in a series of videos and images, testimonies and life stories.
The journey starts with the land. It is an engrossing trip through stories, materials and colours, film clips and tools of the trade. The blazing sun and the dust in the quarries. This is the best way to tell the extraordinary part that the District has played, and continues to play, in shaping the history of this area, particularly to young people.
In the 1960s, the company secretary acts as the virtual guide, introducing visitors to a personalised experience in the different departments of the factory. Timetables and talking tiles are seen alongside virtual men and women, who are given real speaking voices. Direct testimony can be seen and choosen using the kinect, a device sensitive to bodily movements. The social aspects of work, immigration and the conquest of rights, together with environmental aspects, are examined. Visitors travel through the world of ceramics, its privileged channels, testimonials and its style.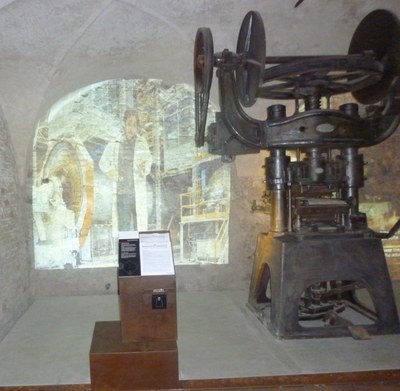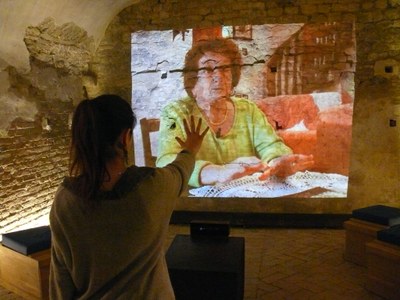 Labour is the result of decades of research to obtain the stories of the people involved, photographs, films and the tools of the trade. It has all been used to create a multimedia and interactive museum experience, prepared by sector specialists. An editorial series of no. 4 volumes for sale at the museum bookshop.
Acknowledgements
Project of Fiorano Modenese Town Council and the Fondazione Cassa di Risparmio di Modena
Partners: ACIMAC, Confindustria Ceramica, CerArte, Società Ceramica Italiana
Curators: Francesco Genitoni, Paola Gemelli and Guglielmo Leoni;
Coordinator Stefania Spaggiari – director of the Museum of Ceramics
Multimedia installation ETT Solutions of Genoa;
Architectural project and preparation by ARKE' Associati di Modena and Progettisti Associati di Sassuolo